Weekend Warrior - September 6 - 8
Tonight, a pair of excellent new releases are commemorated. Heartfelt harmonious songs that explore personal narratives in an emotively expressive, warm way, Queen of Jeans's new album, If you're not afraid, I'm not afraid (Topshelf Records), will be celebrated this evening at Boot & Saddle. The songwriting and graceful air of the vocals invite you along for a ride, utilizing delicately detailed instrumental elegance to reinforce the mood with a refined rhythmic drive.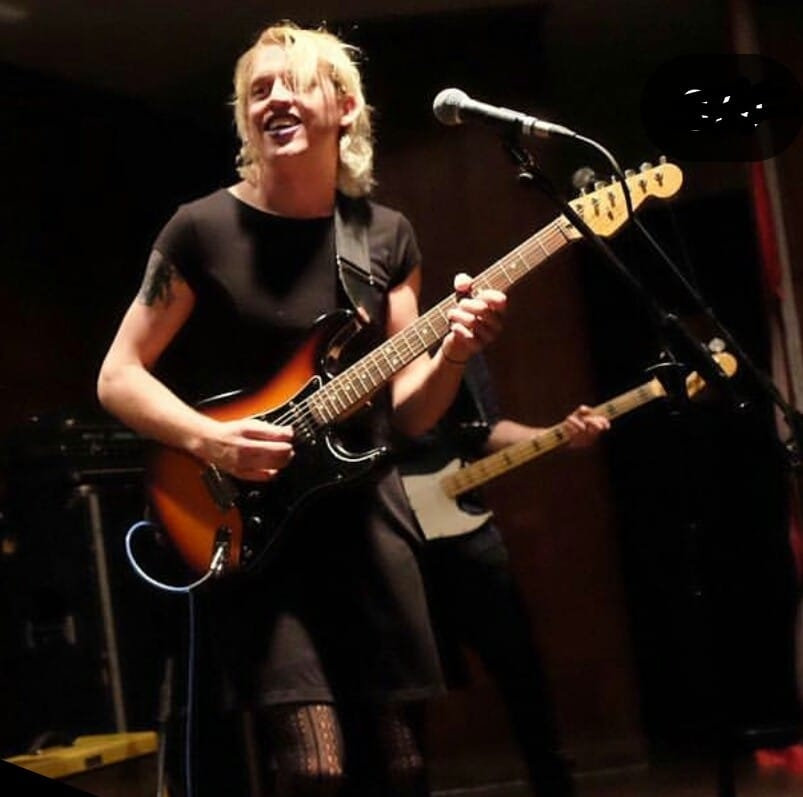 You can also find Underground Arts hosting Curtis Cooper's record release celebration, as part of The House Key Showcase, presented by House Cat & The Key. The album holds true to its name, Graceful, as Cooper taps into vulnerability across a diverse musical landscape, which resonates in its authentic, interconnected, ethereal through lines, harnessing a passionate power and precision. (Queen of Jeans Photo by Bob Sweeney) – Michael Colavita
Other places where you can fall into this weekend…
Boot & Saddle (1131 S. Broad St.) FRI Queen Of Jeans (Album Release), Gladie, SAT Bells, Everywhen, SUN Elison Jackson
Underground Arts (1200 Callowhill St.) FRI XPN Welcomes: The House Key Showcase: Curtis Cooper (Record Release), Amanda X (European Farewell Show), Jacqueline Constance
Johnny Brenda's (1201 N. Frankford Ave.) FRI West Philadelphia Orchestra, Tubular
Kung Fu Necktie (1250 N. Front St.) FRI DJ Deejay, SAT DJ Aktive, DJ AMH, SUN Tiny Hueman, Droopies
PhilaMOCA (531 N. 12th St.) Crypt Sermon (Record Release), Plague Dogs, SAT The Divine Hand Ensemble (10th Anniversary Celebration)
Union Transfer (1026 Spring Garden St,) FRI Soul Glo
The Fillmore Philadelphia (1100 Canal St.) FRI So Far Gone: Dirty South Joe, Magglezzz, SUN Simply Christopher
The Foundry (1000 Frankford Ave.) FRI Goalkeeper, SUN Anthony Green
World Café Live (3025 Walnut St.) FRI (Upstairs) Conjunto Philadelphia
The Fire (412 W. Girard Ave.) SAT Scarlet and the Degenerates, Socko/Big Mind
MilkBoy Philly (1100 Chestnut St.) FRI Creem Circus, Ruby Dear, SAT CHOP Benefit: Greg Sover Band, Blues Reincarnation Project, Mighty Joe Castro & the Gravamen
Ortlieb's Lounge (847 N. 3rd St.) FRI Philip James, Hannah Krupa, Stillwatcher, SAT The Classic Hunt, Rocky Kaminski, Yeenar
The Barbary (951 Frankford Ave.) SUN Bad Heaven Limited, Highnoon, Very Bad Vibes
Silk City (435 Spring Garden St.) FRI DJ Day, Reed Streets, SAT DJ Deejay
Bourbon & Branch (705 N. 2nd St.) FRI Pizzle and the Sizzle Sisters (Album Release), Euphonious, My Funky Brethren, SAT Stone Cold Grace, SUN Matthew Schuler, Grant Owen, Just Shad
Fergie's (1214 Sansom St.) FRI Live Band Karaoke, SAT The Paul Green Rock & Roll Brunch, SUN Rusty Cadillac
Connie's Ric Rac (1132 S. 9th St.) FRI Reverend TJ McGlinchey, The Wonder Bars, Jack Shoudy, SAT Wolves Can't Dance, The Side Chicks, Rabbit Heart
The Tusk (430 South St.) FRI Overcoming Gravity, Ketosis, Loafass, Primadonnaz, SAT The Tone Bandits, Lust for Nothing, Burned In Effigy, Live Not On Evil
Century (1350 S. 29th St.) SAT PLOT (Tape Release), Nowhere, Body Spray
Voltage Lounge (421 N. 7th St.) SAT Here/Now, Vague Advice
Morgan's Pier (221 N. Columbus Blvd.) FRI DJ Beatstreet
The Grape Room (105 Grape St.) FRI Rebecca & The City, Curtis Jr., SAT Pet Lizard, The Smoking Lightbulb
Ardmore Music Hall (23 E. Lancaster Ave.) FRI Spaga, Grimace Federation, SAT AM Radio Tribute Band, Idlewild South
First Unitarian Church (2125 Chestnut St.) SAT Ramona, Hurry
The Pharmacy (1300 S. 18th St.) FRI Mike Kennedy, Brushstroke, Shoot the Messenger, SAT The Magnificent Shit Hawks Of The Greater Northern Americas, Manikineter, The Plibmen, Gristmill
Warehouse on Watts (923 N. Watts St.) SAT PiERSON, Jabair .
Anthorna Gallery (Please contact one of the acts or venue for more info.) FRI Noera, Georgey V, Emospacebird
Haus of Yarga (Please contact one of the acts or venue for more info.) FRI Schotzi
Tide Pool (Please contact one of the acts or venue for more info.) SAT Yahnboi, Slowsie, Telyscopes, City Dressed